Why were more plants needed at Saunders Beach?
Cyclone Yasi crossed the Queensland coast near Mission Beach as a Category 5 system on February 2, 2011. At Saunders Beach, 220km away, the combined effects of strong winds and storm surge moved massive amounts of sand, destroyed trees and damaged infrastructure.
Beachfront residents who had been evacuated from the area returned to find an estimated one third of trees along the beachfront destroyed. Well established native vegetation is vital in these coastal areas to act as a buffer against weather events and to rebuild the damaged coast. Native plants trap wind-blown sand, re-building dunes. It is hoped that planting which has taken place during the establishment of the Wulgurukaba Plant Trail will enhance the natural process of dune stabilisation, restoring and protecting the parkland for generations to come.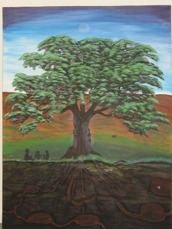 The Three Worlds by Artist Daniel Kornel